Your Reliable
Lakewood Ranch

Moving Company
Local and Long Distance Movers
Call

1-800-226-4663

OR Fill out our quick quote form now, and we'll throw in a
free moving supplies kit!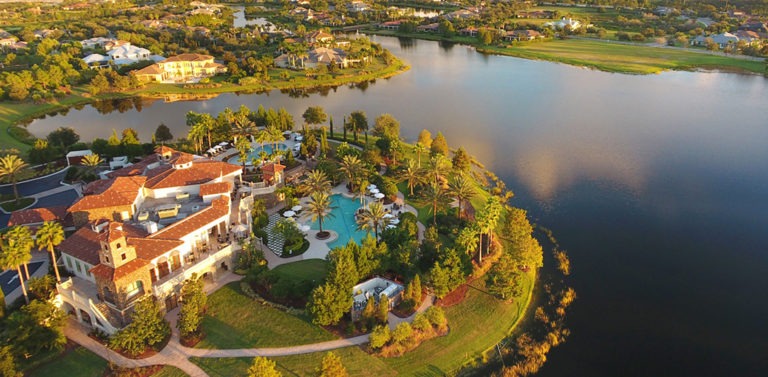 We take all the pain and stress out of moving. Whether you are transferring internationally, across the state, or across the neighborhood. Our Lakewood Ranch movers have the skills and experience to make your move as efficient as possible so you can simply enjoy your new home.
If you are looking for a modern and upscale community, consider Lakewood Ranch, FL. The town has won awards for its conservation efforts and building designs. By all accounts, it's a great place to live and grow, but moving to or from the town will still present the same hassles as any relocation. That is unless you hire the local Lakewood Ranch movers at Modern Movers.
Moving into a new home can be a headache. There's so much that should be considered to ensure the relocation process goes smoothly. The certified Southwest Florida residential movers of Modern Movers can happily take that stress off your shoulders as you plan out other aspects of your move. Our family-owned and operated moving company offers quality relocation services that cover practically every situation you can think of in Lakewood Ranch, FL. We can provide:
Heavy equipment transportation


Car transportation

Reliable written estimates

Movers insurance

Liability protection

Clean, effective trucks

Unpacking services

Organized loading and unloading

Hot tub movers and other specialty relocation services

After-move cleanup

Furniture and home protection
As a top-ranked moving company in Florida, we make sure that we're with you throughout each step of the move. As AMSA-certified movers, you're guaranteed friendly and professional customer service that's hard to find anywhere else.
Our Lakewood Ranch movers will personalize your move according to your inventory and your schedule, and we promise not to let you down. You can rest assured that your move is carefully organized with the use of high-quality packing materials. On top of providing the best customer service, our movers in Lakewood Ranch have endured rigorous training and gained extensive experience to give them the relocation knowledge they have today. Therefore, when you look to Modern Movers to help you relocate, you can be sure that you're working with the pros.
Why Experience Matters: The Benefits of Hiring a Seasoned Moving Company in Lakewood Ranch
Getting ready for your next big move? Buckle in, because we're about to share the secrets of a stress-free relocation. Choosing the right movers can be a game-changer. Dive into this post to unlock the benefits of hiring seasoned movers in Lakewood Ranch – unparalleled professionalism and efficiency that can transform moving from a daunting task into a seamless experience. Say goodbye to hassles and hello to a smooth transition thanks to the moving experts.
Benefits of Hiring Seasoned Moving Professionals in Lakewood Ranch
Moving can be an incredibly stressful and time-consuming task. From packing up your belongings to transporting them safely to your new home, there are many challenges that can arise along the way. That's why hiring seasoned moving professionals in Lakewood Ranch can provide you with a range of benefits that will make your move smoother and more efficient.
First and foremost, experienced movers have the knowledge and expertise to handle all aspects of your move. They understand the best practices for packing fragile items, organizing boxes for easy unpacking, and even navigating tricky staircases or narrow hallways. With their skillset, they can ensure that your belongings are packed securely and arrive at your new home in excellent condition.
Imagine having delicate heirloom china that has been passed down through generations. Seasoned movers will know the proper techniques for packing these fragile items to prevent damage during transportation. Their experience gives you peace of mind knowing that your valued possessions are in capable hands.
Expert movers not only possess technical expertise but also bring efficiency to the table. They've perfected their moving process over years of experience, allowing them to work quickly and efficiently. This means your move will be completed in less time, saving you time and energy.
Another advantage of hiring seasoned moving professionals is their ability to adapt to any unexpected circumstances that may arise during the move. They have likely encountered various challenges in their careers, such as weather delays or logistical issues. Their experience equips them with problem-solving skills to overcome these hurdles efficiently and without compromising the safety of your belongings.
Furthermore, reputable moving companies often offer insurance coverage for your items during transit. This provides an extra layer of protection, ensuring that you're compensated if any accidents or damages occur during the move. Seasoned movers understand the importance of this coverage and can guide you through the insurance options available, giving you added peace of mind.
Ultimately, hiring seasoned movers in Lakewood Ranch means entrusting your move to professionals who have honed their craft. Their experience, efficiency, and problem-solving skills can help alleviate the stress and challenges that often come with moving. By investing in their services, you can focus on settling into your new home while leaving the logistics to the experts.
Now that we've explored the benefits of hiring seasoned moving professionals in Lakewood Ranch, let's take a closer look at the experience advantage they bring to the table.
One of the primary advantages of hiring seasoned moving professionals is their extensive experience in the industry. They've likely handled numerous moves similar to yours and have encountered a wide range of scenarios along the way. This experience translates into a wealth of knowledge that they can draw upon to ensure a smooth and successful move for you.
With their experience, seasoned movers understand the intricacies involved in different types of moves. Whether you're relocating within Lakewood Ranch or embarking on a long-distance journey, they've navigated these routes before and know how to handle each situation effectively. They're well-versed in local regulations, traffic patterns, and logistical challenges that may arise.
Furthermore, experienced movers are familiar with common pitfalls and potential issues that can arise during a move. They can anticipate these challenges and proactively address them, minimizing any disruptions or delays that could impact your move. By relying on their expertise, you can avoid unnecessary headaches and ensure a seamless relocation process.
In addition to their technical knowledge and understanding of logistics, seasoned moving professionals also bring invaluable interpersonal skills to the table. Effective communication is key during a move, whether it's coordinating timelines with clients or collaborating with other members of the moving team. Their experience has honed their ability to communicate clearly and efficiently, ensuring that everyone involved is on the same page.
Picture a situation where you're coordinating a complex move involving multiple locations and tight schedules. Seasoned movers, with their experience, can effectively communicate and coordinate with you and the rest of the team to execute the move flawlessly. Their ability to navigate logistical challenges while maintaining excellent communication helps create a stress-free moving experience for you.
By leveraging their experience, moving experts bring a level of professionalism and efficiency that can significantly streamline your move. They've developed tried-and-true strategies over the years, allowing them to work with precision and effectiveness. Their expertise saves you time, reduces the risk of damage to your belongings, and ensures a successful transition to your new home.
After discussing the invaluable advantages that come with the experience of professional movers, let's now focus on the pre-move preparations.
Preparing for a move can be overwhelming, whether it's a local or long-distance relocation. That's why hiring seasoned movers in Lakewood Ranch can greatly alleviate the stress and ensure a smooth transition to your new home. These professionals excel in providing comprehensive pre-move preparations tailored to your specific needs.
One of the initial steps in the pre-move process is conducting an in-home consultation. Seasoned movers understand that each move is unique, and this personalized approach allows them to assess the size and complexity of your move, as well as any specialized requirements you may have. During this consultation, you can discuss your timeline, budget, and address any concerns you may have about the moving process.
Once the details are established, professional movers will guide you through an organized and efficient packing strategy. With their expertise in handling various types of items and access to high-quality packing supplies, they ensure that your belongings are properly protected during transportation. By using industry-standard packing techniques, reputable movers take extra care with fragile items, such as fine china or heirlooms, ensuring they're securely packed with padding and wrap.
Imagine entrusting your grandmother's delicate antique vase to a team of experienced movers who carefully wrap it in layers of protective material and place it securely in a specifically designed box. You can rest easy knowing that your treasured possessions are in safe hands.
The expertise of seasoned movers extends beyond just physical labor; they can also assist with logistical aspects of the move. This includes coordinating timing and logistics with other parties involved, such as building management or storage facilities. Their knowledge of the area and experience in executing successful moves allow them to navigate potential challenges and ensure a seamless process.
Having understood the importance of pre-move preparations, let's now explore how seasoned movers in Lakewood Ranch deliver excellence in service.
Excellence in Service Delivery
When it comes to relocation, hiring seasoned movers in Lakewood Ranch offers numerous benefits beyond just physically moving your belongings. Their commitment to delivering excellent service goes above and beyond your expectations, ensuring a hassle-free experience from start to finish.
Seasoned movers prioritize punctuality and professionalism. They understand that time is of the essence, and they make every effort to arrive promptly on the scheduled moving day. This reliability sets the tone for a smooth and efficient move, giving you peace of mind and minimizing any potential disruptions to your plans.
Moreover, their knowledge and experience is reflected in their attention to detail. Seasoned movers meticulously handle your items, paying close attention to fragile or valuable possessions. They use specialized equipment and techniques to safely load and unload furniture and boxes, ensuring that everything arrives at your new location in pristine condition.
Picture a team of movers maneuvering large furniture pieces through narrow hallways with precision and care, avoiding any scratches or damage. It's this level of skill that makes the difference between a stressful move and a seamless transition.
Additionally, seasoned movers prioritize clear communication throughout the entire process. They understand that effective communication is key to meeting your specific needs and expectations. They're readily available to address any questions or concerns you may have before, during, or after the move. Whether it's keeping you updated on the progress of your items or providing guidance on settling into your new home, they provide ongoing support until the last box is unpacked.
Excellence in service delivery also means offering transparency when it comes to pricing. Seasoned movers strive to provide accurate estimates upfront, ensuring there are no unexpected costs or hidden fees. Their commitment to fair and transparent pricing allows you to plan your budget accordingly, making the moving process much more manageable.
With pre-move preparations in place and a dedication to excellence in service delivery, seasoned movers in Lakewood Ranch offer seamless relocations. Let's explore why emphasizing local expertise is so important.
Emphasizing Local Expertise
When it comes to choosing movers for your local relocation in Lakewood Ranch, emphasizing local expertise can greatly benefit your moving experience. Local moving companies have an intimate knowledge of the area, allowing them to navigate through neighborhoods and handle any potential challenges specific to the region.
Hiring local movers means tapping into their familiarity with the community. They've likely served numerous clients within Lakewood Ranch before, giving them a deep understanding of the local regulations and requirements for moving. This knowledge translates into a smoother transition as they can guide you through any permits or parking restrictions that may be necessary during loading or unloading.
Additionally, local movers often have established relationships with other service providers in the area. Need to arrange temporary storage? Looking for recommendations on reliable utility providers? Local moving companies can offer valuable insights and connect you with trusted professionals.
Now that we've unpacked why local know-how can make all the difference for your move, let's talk about another decisive factor: the credibility and reliability of the moving companies.
Credibility and Trustworthiness of Companies
If you want to hire experienced Lakewood Ranch movers, one of the crucial factors to take into account is the credibility and reliability of the companies you're considering. Entrusting your valuable possessions to strangers requires a level of confidence that they'll handle your belongings with care and professionalism.
The credibility of a moving company can be assessed through various indicators. One of the initial steps is to check if the company is properly licensed and insured. Licensed movers have met certain requirements set by regulatory bodies, ensuring that they adhere to industry standards and regulations. This not only provides legal protection for both parties involved but also signifies that the company has undergone a thorough screening process.
In addition to licensing, certifications, and affiliations with reputable organizations can further enhance a company's credibility. For example, being a member of professional associations such as the American Moving & Storage Association (AMSA) or the Florida Promover Association demonstrates commitment to ethical business practices and ongoing professional development.
To illustrate, imagine you're considering two moving companies for your upcoming relocation. One company possesses all the necessary licenses, certifications, and affiliations, while the other lacks such credentials. In this scenario, the first company instills more confidence in their ability to deliver a reliable service due to their established credibility.
Trustworthiness is another essential aspect when selecting a moving company. You want to be confident that the professionals handling your move are trustworthy, reliable, and committed to providing excellent service. Testimonials and reviews from previous customers can offer valuable insights into the trustworthiness of a company. Reading about positive experiences and satisfied customers can help alleviate concerns you may have.
Furthermore, consider the company's track record and reputation in the industry. Companies with a long-standing presence in the community, like Modern Movers, that have been operating for over 30 years, often build a reputation based on their reliability and customer satisfaction. These companies prioritize their customers' needs and strive to deliver services that exceed expectations.
In conclusion, when hiring seasoned movers, it's crucial to evaluate the credibility and trustworthiness of the companies you're considering. A licensed and insured company with relevant certifications and affiliations indicates a commitment to professional standards. Positive testimonials and a solid reputation in the industry ensure that you can trust them with your belongings during the moving process.
Armed with the knowledge of how to discern credible and trustworthy moving companies, let's now examine the range of services offered by experienced movers in Lakewood Ranch.
According to a study conducted by the American Moving and Storage Association, professional moving companies like Modern Movers can reduce move-related damage by nearly 60%.
The same study revealed that utilizing the services of experienced moving companies cuts down the time of a typical local move by up to 50%, which results in significant cost savings.
According to research published in the Journal of Occupational and Environmental Medicine, employing professionals for heavy tasks, such as moving furniture, reduces the risk of musculoskeletal injuries among homeowners by nearly 75%.
Services Offered by Seasoned Movers in Lakewood Ranch
You may think that moving is just about packing things up and transporting them from one place to another. However, seasoned movers in Lakewood Ranch offer a variety of services that can make the process even smoother and more convenient for you. Here are some of the services offered by experienced moving professionals:

1) Local and Long-Distance Moving Services: Whether you're moving across town or across the country, seasoned movers have the expertise and equipment to transport your belongings safely and efficiently. They can provide you with packing materials, load your furniture and boxes onto their trucks, and deliver them to your new home on time.
2) Commercial Moves: If you own a business that needs to be moved, it's not as easy as just packing things up like you would with a residential move. It requires careful planning and consideration to ensure minimal downtime for your business operations. Hiring seasoned movers with experience in commercial moves can make all the difference. It's like hiring a professional quarterback to lead your team instead of just a rookie.
3) Moving to/from Retirement Homes: Many seniors prefer downsizing when moving into a retirement home, which can come with its own set of challenges. Seasoned movers can help with decluttering, packing, and unpacking their clients' most valued possessions. They understand how stressful it can be to move elderly parents, both emotionally and physically.
4) Air-Conditioned Storage: In case the timing aspect is complicated, seasoned movers in Lakewood Ranch can also offer air-conditioned storage. Your belongings will be safe and protected from heat and humidity.
Hiring seasoned movers, like Modern Movers, can save you time, hassle, and stress. From packing and loading furniture to transporting goods across any distance to unpacking and organizing items at your new location, they're task-oriented and ready to help you with whatever you need in order to make your move successful!
Frequently Asked Questions
Ensuring a Smooth Move to Lakewood Ranch with Modern Movers
By hiring our seasoned moving company in Lakewood Ranch, you can benefit from our years of experience and expertise. We have the knowledge and skills to handle all aspects of your move, ensuring a stress-free and efficient process. Our team uses the latest equipment and techniques to pack, load, transport, and unload your belongings with care, minimizing the risk of damage or loss. Additionally, our well-established moving company offers insurance options to protect against any potential mishaps during transportation. Choosing our experienced moving company allows homeowners to preserve their peace of mind while shifting their focus on other important details related to moving into a new house with their family!
Our moving company in Lakewood Ranch is extremely accommodating and we can likely help you with whatever moving requirements you may have. We've been in business for almost 40 years, so you can fully depend on our knowledge and expertise to successfully settle you into your new home. Over the years, our moving company has perfected our relocation services to ensure our customers get the best service possible. Give us a call at
1-800-226-4663
for your free quote today and get started on your move to Lakewood Ranch, FL!