Local and Long Distance Movers
Call

1-800-226-4663

OR Fill out our quick quote form now, and we'll throw in a
free moving supplies kit!
Family Owned Southwest Florida Moving Company
Modern Movers is a team of professionals involved in all aspects of full-service moving, packing, storage, warehousing, and logistical services. Over the last four decades, our Southwest Florida movers have helped countless individuals, families, and businesses move to destinations throughout Florida and the United States.
As a fully licensed long-distance moving company and local residential moving company in Florida, we work hard to meet the moving and storage needs of all our customers. Our certified moving consultants and coordinators have also arranged international moving and transport to places all around the globe. Read on to learn more about Modern Movers – our history, our values, and goals for the future.
Licensed and Insured Southwest Florida Movers
• ICC #220489
• US DOT #360723
• FLDACS #IM219
• FLDACS #IM2906

Wherever you are moving to, our movers in Southwest Florida are here to help. Our Gulf Coast moving company has the expertise and industry experience to ensure a seamless relocation and successful delivery. Move with Modern Movers and receive exceptional customer service and peace of mind moving, guaranteed!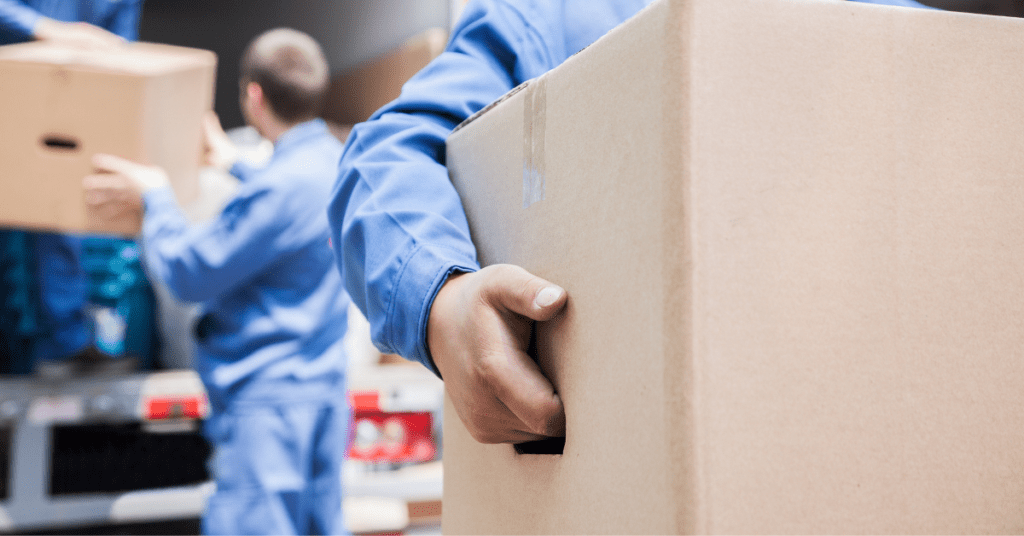 The History of Modern Movers, Inc.
1981 – Our president and founder, Jeff Guminiak started the company in 1981 as a furniture delivery service known as "Home Delivery," which serviced local furniture and interior design firms in the heart of Southwest Florida. He continues to lead our team of dedicated Florida movers and moving professionals continually instilling his vision to exceed customer expectations.
1996 – Alanann, Inc. acquired Modern Movers to offer nationwide ("interstate") moving and storage services in Florida to its existing array of relocation services for the community. The combination of timing and the sharing of both companies' long-established abilities in the moving industry prepared the company for the Real Estate Market explosion that occurred in Southwest Florida in the late 1990s.
Early 2000's – Modern Movers offered local, intrastate, and interstate moving services as well as full-service packing services to customers. Our Southwest Florida moving company was now in a position to offer secure, climate-controlled storage/warehousing accommodations in its 20,000 SF facility, jointly located at its corporate headquarters.
Today – Over the years, Modern Movers has mastered the details and complexities involved in moving, delivering and storing its customers' household goods and valued possessions. We are a prominent Gulf Coast moving company that has serviced the community during hurricanes, real estate explosions or economic insecurities, all of which define who we are as Floridians.
Today, Modern Movers, with its "can-do" attitude continues its commitment to providing the finest facilities and expertise to YOU, our Valued Customer. Our Southwest Florida movers work hard to ensure the most cost-effective, comprehensive, and professional relocation services, while always remembering to say "Thank You" for the opportunity to serve you.
Our Guarantee For Peace of Mind Moving
At Modern Movers, we never compromise integrity or the safety of your possessions. Our Southwest Florida moving company treats the value of all belongings the same because it's not us that puts the value on it – You Do! And that's what matters most to us.
We've spent decades honing our craft and feel completely confident in each of our Florida movers and staff members' ability to deliver the best possible customer experience. We are so certain of our quality service that we offer the following performance guarantee:
Promptness

Equipment

Appearance

Courtesy

Efficiency
If for any reason you are not satisfied with the quality of our service or our overall efficiency, we will address and resolve your concerns on the spot!
Peace of Mind Moving and Superior Service Provided By:
Trust Modern Movers with Your Next Big Move
Customer satisfaction is our #1 goal! It's the reason we enjoy a 95% Customer Satisfaction rating and a high referral rate. We are not volume movers – we are custom movers. We move YOU! We take the same time and care with your possessions as we would our own.
Modern Movers is accredited by the Better Business Bureau and a proud member of the American Moving & Storage Association. We proudly adhere to the standards consistent with the Florida Moving and Warehousemen's Association (FMWA).
If you want to learn more about Modern Movers, don't hesitate to reach out! We'd love to talk with you about our convenient moving services in Southwest Florida. Contact us or call now for a free moving estimate: 1-800-226-4663