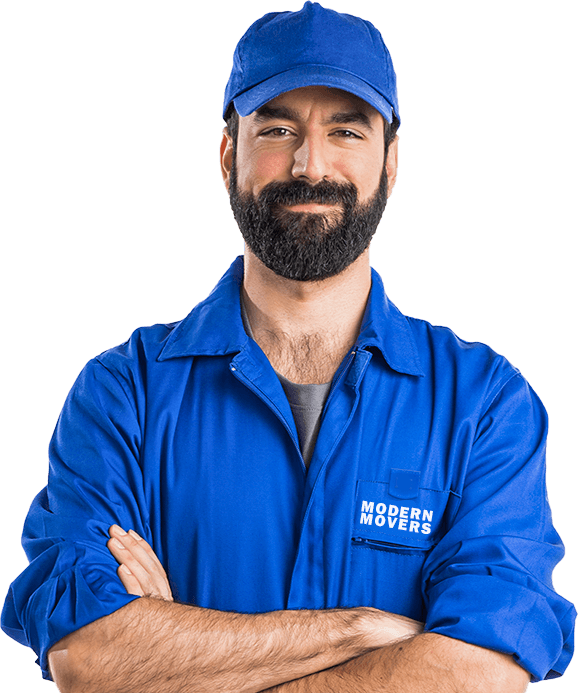 Comprehensive
Moving Guide
Local and Long Distance Movers
Call

1-800-226-4663

OR Fill out our quick quote form now, and we'll throw in a
free moving supplies kit!
Comprehensive Moving Guide
A move can be stressful, but with the right packing and sorting techniques, it can be easier. Though our expert last-minute movers can assist you with a relocation on short notice, our pros have shared a comprehensive moving guide for your upcoming relocation to make things just a little easier for you so you don't find yourself in a moving bind.
How to Prepare Your Kitchen for Moving
Your kitchen can be a tough room to pack. Items need to be sorted, defrosted disconnected and thoroughly cleaned before you move out. These are a few things you should do to pack up and prepare your kitchen.
Properly Store Canned Goods: When preparing for a big move, make sure your canned goods are in small, sturdy containers. Each container should store approximately 24 cans (no more than 50 pounds) of food.
Avoid the Transport of Perishable Foods: If any food spills onto your items during the move, the carrier is not liable for those damages. That's why our pros suggest you avoid the transportation of perishable foods or open containers. Try to use up your perishable food in the days leading up to the move. You can also offer them to your neighbors, friends, and family or donate them to a food bank or other local charity collecting food items.
Defrost the Freezer: Transporting your refrigerator? Make sure the freezer is cleaned and defrosted. Need help when it comes to assembling or disassembling an appliance? Consult one of our experts for advice or help!
Thoroughly Dry the Refrigerator Prior to Moving: As with your freezer, your refrigerator must be thawed and dried before the move. Disconnect any water lines and leave the door open to allow the appliance to air out. Otherwise, you might find an unpleasant odor when you open it back up at the new house.
Disconnect the Stove: If you're moving your stove to the new house, just make sure it is disconnected. If you have a gas-powered stove, tightly shut off the gas lines carefully. We can also help with the removal and safe storage of griddles, coils, and deep fryers. We also offer storage services across southwest Florida in case your new house already has appliances but you're taking your old ones with you too.
Move Your Microwave Carefully: Protect the contents of your microwave by removing the turntable and glass tray. Wrap these items and place them in a moving container.
Individually Wrap Kitchenware Prior to Packing: When preparing your kitchen for a move, make sure you pack them carefully in cartons—large items on the bottom and smaller items on top. Bonus tip? To better protect these items, you may consider wrapping them individually. You may also wrap and store small appliances (toasters, waffle irons, etc.), keeping like items together to make it easier to unpack later on.
Leave Silverware in Original Containers: The containers are designed to keep your silverware organized, so it makes sense that you move the container as is, perhaps wrapping the silver chest itself with padding to prevent damage. However, for your peace of mind, you may also wrap these items individually if you'd like. Ask any one of our movers for more information.
Wrap Glassware Individually: Before placing glassware items in the partitioned carton, be sure to wrap each item individually. Do not nest these items inside each other or store them on their sides.
How to Prepare Your Bedroom for Moving
A comprehensive moving guide wouldn't be complete if we didn't dive deep into how to prepare your bedroom. Follow these easy steps to prepare your bedroom for the big move.
Don't Worry About Your Bed: 

When preparing your bedroom for the move, don't worry about dismantling and reassembling your bed – our residential Southwest Florida movers can do that! Just make sure you take off all bed linens and pillows.

Remove Heavy Items from Furniture Drawers: 

You may keep light objects, such as clothing, in furniture drawers. However, you must remove firearms, breakables, liquids, and other heavy items. Filing cabinet drawers should be emptied entirely and stored in paper boxes.

Safely Wrap Your Clocks: 

To keep your clocks safe, remove any pendulums and secure them to the base of the clock. If you'd like, you can wrap small clocks and place them in moving containers.

Leave Hanging Clothing to Us: 

Here at Modern Movers, we will transport your clothes on hangers directly from your closet into our wardrobe containers. Each of these containers holds approximately 25 hangers. Smaller items of clothing should be packed in suitcases, boxes, or small moving cartons.

Protect Your Mattress: 

Avoid damages to the springs or fabric by covering the mattress with a sheet or cover or consider wrapping your mattress in plastic so it's not exposed to all the dust and dirt in the moving truck. There are even specially-designed plastic bags specifically for this purpose that make it so much easier to protect your mattress for a move. In either case, do not try to roll the mattress. Our Southwest Florida long-distance movers take care to wrap and protect your mattress.

Use Packing Paper to Keep Dust Off of Linens

: Line these items with packing paper to avoid the accumulation of dust. We recommend that you don't use newspaper as packing paper; the ink may stain the fabric. You can store these items in a medium carton from our free moving kit.

Personally Transport Valuable Jewelry:

 Protect your valuables, including jewelry, by keeping them in your possession at all times.
How to Prepare Your Bathroom for Moving
The best way to prepare your living for moving is by organizing the different types of items. Follow this comprehensive moving guide to help you pack up your living room.
Consider Having Your Curtains Cleaned: 

Make things easier for yourself when moving by opting to send curtains to the cleaners and then having them delivered directly to your new address. If not, you may fold and place these items in boxes or place them on hangers and in wardrobe cartons.

Wrap Your Lampshades: 

Your lampshades are considered fragile items, so be sure to store them in containers that are properly marked. Wrap them in packing paper only and store them carefully in cartons.

Safely Store Your Lamps: 

If your lamps have ornamental tops, remove these items, wrap them, and store them.

Clean Rugs Prior to Moving: 

Your new house should be free of any dirt or debris. Clean your rug before your movers arrive on the big day.

Pad, Wrap, and Crate Your Pictures and Paintings: 

Pad and wrap all your valuable paintings and pictures before storing them in containers. A budget-friendly tip: smaller items may be wrapped in pillowcases or blankets and stored.

Remove All Stereo Components from the Unit: 

To safely transport your stereo, remove all components and store them properly. These components may include:
Small speakers
Video/audio components
Surround sound systems
DVD players
Turntables
Tape decks
CD players
Stereo receivers
You should also store DVDs and CDs separat
How to Prepare Your Fragile Items for Moving:
Before you start preparing your fragile items for moving, make sure you have the right materials on hand to make sure your belongings, especially your delicate ones, are properly secured to prevent damage during the move.
Secure Your China and Other Fragile Items: All fragile items, including china, should be individually wrapped. Pack these items in containers with large objects on the bottom and smaller ones on top. We recommend that you store plates vertically, with pads of paper between each item. Also, we recommend you pad the container with three inches of paper on the bottom and two inches of paper on top.

Wrap Your Mirror for Safe Handling: Mirrors are among the most fragile objects we transport. To protect these items, consider wrapping them with paper and bubble wrap.

Protect Glass Top Furniture: To protect your furniture, we recommend boxing or crating any glass tops. Let us know if you are moving a large glass item and we will pad-wrap or box the object for you!

Consult with a Clock Company About Your Grandfather Clock: Transporting a grandfather clock long-distance? If so, we recommend you consult a clock company. For shorter distances, remove any chimes, chains, weights, or pendulums. Then, secure these smaller items to the base of the clock with a strong string or wire.
How to Prepare Your Garage for Moving
The biggest headache of all when moving is usually the garage, (depending on how organized it is of course), because that's where most things end up. In this comprehensive moving guide, you will find common garage items and how you can prepare them for moving.
Have a Service Expert Prepare Your Washer for Moving: As with all appliances, your washer should be serviced by a professional prior to the move. You must also secure and check the motor, fasten the tumbler action, and disconnect any hoses. Be sure to also remove any clothing from the agitator barrel.

Drain Your Mower's Gas Tanks: Safely transport your mower and gas-powered tools by draining gas tanks and oil reservoirs. Remember, we do not transport any flammable mixtures or items.

Wrap Valuable Tools Separately: If you have valuable tools, be sure to wrap them individually. You may also store these items, wrapped or unwrapped, in storage cartons.
How to Prepare Important Items for Moving
Some items don't fit in any particular category but are extremely important during the moving process. For some of these miscellaneous items, these are a few ways to prep and pack them up for the move.
Protect Your Books: Remove all books from portable bookcases and furniture drawers. We recommend packing these items cover-to-cover in small, but strong, boxes. We also suggest that you individually wrap any books of value.

Keep Important Documents on You: To best protect your important documents—including legal papers and currency—keep them in your possession.

Wrap All "Knick-Knacks" and Other Small Items: If you have any small items or "knick-knacks" that need to be stored, be sure to wrap them individually first.

Be Aware of Items That Cannot Be Transported: Some of your possessions cannot be transported by the carrier. It's important to be aware of the items you'll need to transport yourself. Those include:
Plants

Unsealed containers

Bleach

Oils

Antifreeze

Matches

Paint

Firearms

Candles

Aerosols

Flammables

Corrosives

Caustics
Don't Forget About Your Pets! If you're moving locally, moving with your pet is as easy as taking a drive. However, if you're moving long-distance, think about the logistics of traveling with your pet and make the appropriate arrangements either in your vehicle or with a service. Make sure to keep their leash, food, a couple of toys, or any medications they might need handy during the move.
If you have questions about a specific item in this comprehensive moving guide, feel free to call us for more information.