Your Reliable
Cincinnati

Moving Company
Call

1-800-226-4663

OR Fill out our quick quote form now, and we'll throw in a
free moving supplies kit!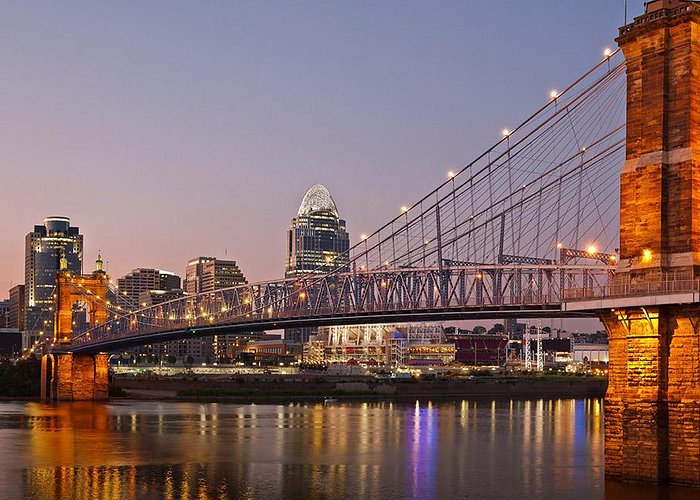 Trusted Moving Companies Cincinnati: Your Move, Our Expertise
Welcome to the hub of Cincinnati's best-moving company. If you're looking to make a long-distance move, you've landed at the right place. Let's embark on this journey together, ensuring a smooth transition from your current location to your new dream place.
Experience seamless long-distance moves with Cincinnati's top movers.
Moving can be daunting, especially if you're new to the process. But fret not! With our full-service moving company in Cincinnati, we've got you covered.
At our full-service moving company in Cincinnati, we pride ourselves on offering a wide range of long-distance moving services tailored to meet the unique needs of our clients, our team of experienced moving professionals is always ready to assist you in making your move a seamless transition.
Long Distance Movers Cincinnati: Over 40 years of experience in nationwide moves, ensuring your belongings are safe across states.
Long-distance moves can be daunting. But with our Trusted Long-Distance Movers, you can rest easy knowing:
Your belongings are in the hands of experienced professionals.
We use state-of-the-art equipment and vehicles to ensure the safety of your items.
Our Cincinnati Long Distance Movers have a track record of successful moves across the country.
Moving Services Cincinnati: Comprehensive services including packing, loading, and transportation.
Our comprehensive moving services are designed to take the stress out of your move. As Cincinnati's best-moving company, we offer:
Cincinnati Packing Services: Our team will pack your belongings with care, using high-quality Cincinnati Packing Supplies.


Loading and Unloading: Our team ensures that your items are loaded and unloaded with utmost care.


Transportation: With a fleet of modern vehicles, we ensure timely and safe transportation of your belongings.
Navigating the world of moving companies can be overwhelming, especially when you're looking for a trusted partner to help you transition to a new place. So, why should you entrust your move to us in the vast Cincinnati area? Let's dive into the reasons:
Experience: Serving Cincinnati for over 40 years with a legacy of trust.
Legacy in the Cincinnati Area: For over four decades, we've been the go-to moving company for countless residents and businesses in Cincinnati. Our deep roots in the community and understanding of its cultural history make us uniquely qualified.


Expertise in Long Distance Moves: Relocating to a new state? Trust the experts who've made long-distance moving a seamless experience for thousands. Our unparalleled expertise in long-distance moves ensures that your belongings reach their destination safely, on time, and without the stress typically associated with such relocations. Whether it's across the state or across the country, we've got you covered.


Specialized Services: From Cincinnati Apartment Movers to Cincinnati Corporate Movers, our wide range of services caters to every long-distance moving need.
Transparent Pricing: No hidden charges, with the same price 7 days a week.
Clear Quotations: We believe in transparency. When you request a quote from us, we provide a detailed breakdown, ensuring you understand every charge.


Value for Money: As Cincinnati's best moving company, we ensure that our services, from Cincinnati Packing Services to Cincinnati Auto Movers, offer the best value for your money.


Consistent Pricing: Whether you're moving on a weekday or weekend, our commitment is to offer consistent pricing, ensuring no surprises.
Professional Team: Highly trained and skilled movers equipped with top-of-the-line equipment.
Skilled Movers: Our team of long-distance movers in Cincinnati, undergoes rigorous training to ensure they handle every move with care and precision.


Modern Equipment: We invest in top-of-the-line equipment, ensuring safe and efficient moves, whether it's a residential move or a commercial move.


Dedicated Support: Our support team is always on standby, ready to assist with any queries or concerns, ensuring a smooth moving experience.
Real feedback from satisfied customers highlighting our efficiency, professionalism, and care.
In the bustling Cincinnati area, amidst the beautiful cultural history and the vibrant streets of Downtown Cincinnati, moving can be an exciting adventure. But above all, safety remains paramount. As Cincinnati's best moving company, we understand the importance of ensuring the well-being of both our clients and our team. Here's how we prioritize safety in every move:
Commitment to health and safety:
Training and Education: Every member of our team undergoes rigorous training on health and safety protocols. This ensures that they are well-equipped to handle any situation that may arise during the move.


Sanitization Protocols: Our moving company ensures that all equipment, from Cincinnati Packing Supplies to moving trucks, is sanitized regularly. This minimizes the risk of any health hazards.


Personal Protective Equipment (PPE): Our crews are provided with the necessary PPE, ensuring their safety and the safety of our clients during the move.
Crews equipped with First Aid Kits:
Immediate Medical Attention: Accidents, though rare, can happen. Our crews are equipped with First Aid Kits to provide immediate medical attention if needed.


Trained Personnel: Beyond just moving, our team members, including Cincinnati Apartment Movers and Cincinnati Auto Movers, are trained in basic first aid procedures. This ensures timely and appropriate care in case of any minor injuries.


Emergency Protocols: In the unlikely event of a major incident, our team follows strict emergency protocols, ensuring the safety of everyone involved.
Adherence to state and federal guidelines to ensure the safety of customers and crews:
Up-to-date with Regulations: As a full-service moving company in Cincinnati, we stay updated with the latest state and federal safety guidelines. This ensures that our operations are always in compliance with the law.


Regular Audits: Our operations undergo regular audits to ensure adherence to safety standards.


Feedback and Improvements: We value feedback from our clients and our team. This helps us continuously improve our safety measures
Moving Tips and Insights:
Embarking on a move, especially in the vibrant Cincinnati area, can be both exhilarating and nerve-wracking. But with the right guidance and preparation, it can be a breeze. As Cincinnati's best moving company, we've gathered decades of experience and insights to help you navigate this journey. Here are some essential tips and insights to ensure your move is smooth and stress-free:
Tips on how to make packing easier:
Start Early: The earlier you start packing, the less rushed you'll feel. Begin with items you rarely use and gradually move to daily essentials.


Use Quality Packing Supplies: Investing in quality Cincinnati Packing Supplies ensures your belongings are safe and secure. Remember, it's not just about packing; it's about protecting.


Label Everything: A simple label can save you hours of searching later. Clearly mark boxes with their contents and the room they belong to.


Declutter: Moving is a great time to assess what you truly need. Consider donating or selling items you no longer use. This reduces the load and can make your move more efficient.


Seek Professional Help: If packing feels overwhelming, consider using our Cincinnati Packing Services. Our experts can make the process seamless.
What to do when movers arrive:
Be Prepared: Ensure everything is packed and ready to go. This will make the process faster and more efficient.


Provide Clear Instructions: Whether you're working with Cincinnati Apartment Movers or Cincinnati Commercial Movers, clear communication is key. Let them know of any special instructions or concerns.


Keep Valuables with You: Items like jewelry, important documents, and heirlooms are best kept with you during the move.


Stay Available: Be around to answer any questions the movers might have. This ensures that the move goes according to your preferences.
Estimating delivery times for your belongings:
Distance Matters: One of the most pressing concerns during a long-distance move is the uncertainty of when your belongings will arrive. We get it. That's why we've honed our process to provide you with the most accurate delivery time estimates in the industry.



Traffic and Routes: Our Movers in Cincinnati are well-versed in state-to-state traffic patterns. However, unforeseen circumstances can sometimes cause delays.


Size of the Move: A move involving a single-bedroom apartment will be quicker than a corporate relocation. The volume of items plays a significant role in delivery times.


Stay Informed: Our team will keep you updated on the progress. For peace of mind, always ask for tracking or regular updates, especially for long-distance moves.
Make Your Next Move the Best Move!
Preparing for a move? Trust our Cincinnati moving team for comprehensive assistance. Reach out to our approachable team to discover our diverse moving solutions tailored just for you! Contact our moving consultants at 1-800-226-4663 if you have any questions or concerns or would like to schedule a move with Modern Movers and get a free estimate!