Your Reliable
Fort Myers

Moving Company
Local and Long Distance Movers
Call

1-800-226-4663

OR Fill out our quick quote form now, and we'll throw in a
free moving supplies kit!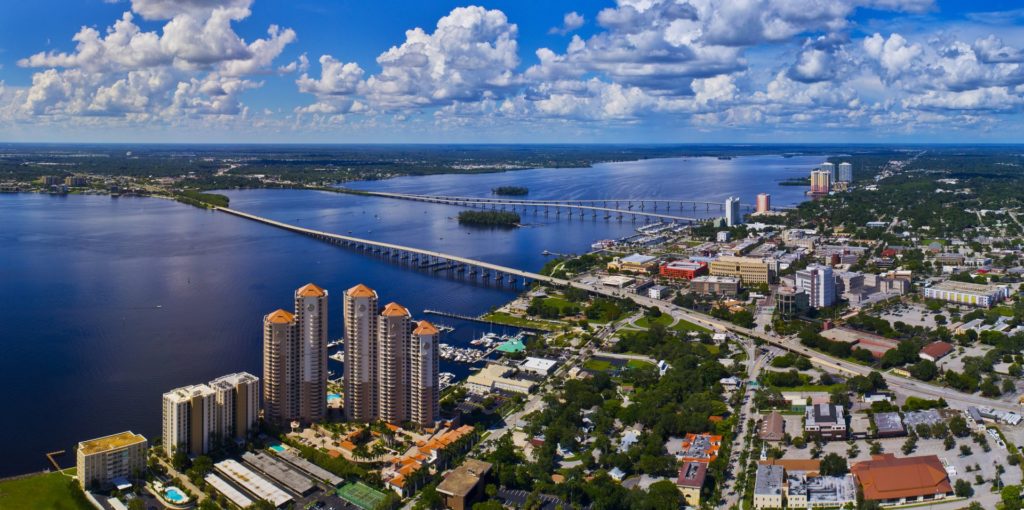 If you plan on moving to or from our historic coastal town, you'll want to enlist the help of trustworthy Fort Myers movers. The trained staff at Modern Movers have been the area's movers of choice since 1981. Our movers in Fort Myers provide a safe relocation for your household items – learn why we have been a community name for almost two decades. We provide both long-distance as well as local moving services.
A Variety of Full-Service Moving Options
Our trusted Fort Myers movers are the reliable experts you can call to relocate all different types of household items. From heavy furniture to grand piano moving in Southwest Florida, our professional movers have seen it all. Our Southwest Florida moving company has dealt with all manner of relocations from small houses to large corporations; we have the equipment to handle all different types of moves.
Whether your move only involves boxes, a bed, and a couch or various pieces of furniture and a hot tub, we'll take care of it. Our experienced movers are licensed, insured, and offer a variety of services, including:
Automobile moving

Moving unusually-shaped or bulky furniture

International moving
No matter what a client's moving needs are, they keep coming back t us because of the quality customer service we deliver. Our professionals strive to give you a first-class moving experience. Ask anyone in Fort Myers and they will all tell you about the great things our Fort Myers movers have done for them. Our movers go above and beyond for their customers to make sure everything goes smoothly and you can rest easy.
More Than Just A Fort Myers Moving Company
Besides our full-service moving options, our Fort Myers movers can provide storage solutions in Southwest Florida for your household items. Our secure and climate-controlled facilities feature 24/7 security, sprinklers, and a fire suppression system, so you can rest easy knowing your most valuable items are safe. Our Fort Myers movers also provide other services and considerations to ensure everything runs smoothly, including:
Written estimates, no surprise fees

Mover's liability protection or full valuation for your items

A variety of packing services to meet your needs

Disassembly and assembly of larger items

Furniture protection such as moving pads and stretch wrap to prevent snags, tears, or dents

Residence protection pads to protect railings, tight corners, and doors

Carpet covers to keep your carpets clean throughout the move

Systematic loading with a detailed inventory list to keep your items in the right rooms, even after long-distance moves

Well-maintained and fully equipped trucks

Debris removal, including disposal of empty boxes and extra packing materials away
Understanding the Value of Professional Moving Services in Fort Myers, FL
When it comes to relocating in, out, or within the sunny city of Fort Myers, nothing beats the unbeatable convenience and efficiency offered by professional moving services. Imagine turning the typically stressful task of moving your family and all your things from one house to another into a seamless experience where every step is handled with precision, care, and unrivaled professionalism. Here, we'll delve into the enormous benefits of employing expert moving services in Fort Myers. We'll take you on a journey, exploring how these services not only save you from heavy lifting but also provide peace of mind that your precious belongings are safely transported. The tranquility of a move done perfectly right awaits to be unlocked!
Investing in professional moving services in Fort Myers, FL can provide invaluable benefits such as saving time, reducing stress, and ensuring the safe and efficient transport of your family's goods and belongings. Our team at Modern Movers has the experience, tools, and resources to make your move as smooth and stress-free as possible, freeing up time for you to focus on settling into your new house or office with peace of mind.
Unlocking the Benefits of Moving Services in Fort Myers FL
Moving your house and family to a new location can be an exciting yet overwhelming experience. The mere thought of packing up all your things and transporting them to a different place can induce stress and anxiety. That's why it's crucial to consider utilizing the professional moving services available in Fort Myers, FL. With their expertise and industry knowledge, these moving services offer a wide range of benefits that can make your moving process smooth, efficient, and hassle-free.
– Time-saving convenience
When you entrust your move to a professional moving service in Fort Myers, you unlock the convenience of having professionals handle every aspect of the process. From packing and labeling your belongings to loading them onto trucks and transporting them to your new destination, they take care of it all. This means you can focus on other important tasks associated with the move, such as coordinating utilities or saying goodbye to friends and neighbors.
– Specialized equipment and resources
In addition to time-saving convenience, professional movers also have access to specialized equipment and resources that can ensure the safety and protection of your belongings during transit. They're experienced in handling fragile items, appliances, heavy furniture, and delicate electronics, using proper packing techniques and materials to prevent damage. This expertise gives you peace of mind knowing that your cherished possessions will arrive at your new home unscathed.
– Insurance coverage
Offering insurance coverage is another significant benefit provided by moving services in Fort Myers. As careful as professional movers may be, accidents can happen unexpectedly during transportation. With insurance coverage included in their services, you have an added layer of protection for your valuable possessions in case of any unforeseen incidents. This level of security enables you to relax and trust that your belongings are in safe hands throughout the moving process.
Picture this: You've decided to move across the country due to a job transfer. As you contemplate how to handle all the logistics involved – from packing up your household items to navigating through unfamiliar roads – stress starts creeping in. Fortunately, by enlisting the help of professional movers in Fort Myers, southwest Florida, you can offload the burden onto experts who will ensure a seamless and efficient moving experience. This allows you to focus on settling into your new job and exploring your new surroundings without the worry and anxiety that accompany the moving process.
Now that we've explored the benefits of utilizing moving services, let's dive deeper into how they provide stress-free and efficient moving experiences.
Utilizing professional moving services in Fort Myers can provide numerous benefits, including time-saving convenience, specialized equipment and resources, and insurance coverage. These advantages allow you to experience a smooth, efficient, and stress-free moving process while professionals handle every aspect of the move. With this help, you can focus on other important tasks associated with the move and settle into your new home comfortably without worrying about the logistics of moving.
Providing Stress-Free and Efficient Moving Experiences
Moving is often synonymous with stress. The thought of managing multiple tasks simultaneously, from packing and organizing to physically moving heavy furniture, can be overwhelming. However, professional moving services in Fort Myers are well-equipped to alleviate this stress and provide an efficient moving experience.
By hiring professionals, you don't have to worry about gathering packing supplies or spending hours meticulously wrapping fragile items. Moving services in Fort Myers offer access to high-quality and affordable packing supplies, including sturdy boxes, bubble wrap, packing tape, and protective padding. They know which materials work best for different types of items, ensuring that your belongings are well-protected during transit.
Furthermore, professional movers have the expertise to streamline the packing process efficiently. They're skilled in optimizing space within boxes and securing items to prevent shifting or damage during transportation. This systematic approach translates into reduced time spent on packing and unpacking at both ends of your move.
Another important aspect contributing to stress-free moving experiences is the knowledge and experience of professional movers when it comes to logistics and navigation. They understand the best routes in Fort Myers and surrounding areas, avoiding potential traffic congestion or roadblocks. With their skills in maneuvering large trucks safely, you can have peace of mind knowing that your belongings will arrive at your new home on time.
Lastly, professional movers offer a range of services tailored to meet individual needs. Whether you require assistance with disassembling furniture, handling valuable artwork, or storing items temporarily, they have you covered. Their flexibility ensures that your specific requirements are addressed with precision and care, allowing for a customized moving experience tailored to your unique needs.
Consider a scenario where you're a busy professional juggling work deadlines while planning a move. The thought of packing up your entire home after a long day at the office seems daunting and overwhelming. However, by enlisting the services of professional movers, you can delegate the packing and moving tasks to capable hands. They'll handle everything, from providing the necessary packing supplies to efficiently executing the move, while you focus on managing your professional responsibilities stress-free.
Access to High-Quality and Affordable Packing Supplies
When it comes to moving, one of the most important aspects is ensuring the safety and protection of your belongings during transit. That's where access to high-quality and affordable packing supplies becomes crucial. Fortunately, when utilizing moving services in Fort Myers, you gain the advantage of being able to access a wide range of packing supplies that are not only of high quality but also available at reasonable prices.
Moving companies in Fort Myers, such as Modern Movers, understand the importance of proper packaging, and they offer a variety of packing supplies to suit different needs. This includes sturdy moving boxes in various sizes, bubble wrap for fragile items, packing tape for securing boxes, protective furniture covers, mattress bags, and more. By providing these essential supplies, professional movers ensure that your belongings are securely packed and protected from any potential damage during transportation.
For instance, imagine you have delicate glassware or valuable artwork that requires special care and packaging for safe transport. When you hire a reputable moving company, they'll have access to specialized packing materials like custom-made crates or padding specifically designed for protecting fragile items. This attention to detail ensures that even the most delicate possessions are handled with utmost care throughout the entire moving process.
Purchasing all the necessary packing supplies individually can be time-consuming and costly. By utilizing the services of a professional moving company, you eliminate the hassle of sourcing these materials yourself. Moreover, since moving companies frequently purchase packing supplies in bulk, they can pass on cost savings to their clients, making the process more affordable overall.
Having explored the benefits of accessing high-quality and affordable packing supplies through professional movers in Fort Myers, let's discuss another vital aspect of a successful move – selecting the right moving company itself.
According to a 2021 study from the American Moving & Storage Association, hiring professional movers can save homeowners up to 75% of the time typically needed for a DIY move.
A 2023 survey by Consumer Reports found that 65% of people who used professional movers were significantly less stressed during their move compared to those who chose the DIY route.
Market research firm IBISWorld reported in their 2023 Moving Services US Market Research Report that customers in Florida saw an average reduction of 20% in damage or loss of items when using professional movers compared to self-moving.
Selecting the Right Moving Company in Fort Myers
Choosing a reliable and trustworthy moving company is key to ensuring a smooth and stress-free moving experience. With numerous options available in Fort Myers, it's important to consider various criteria to make an informed decision.
– Reputation
First and foremost, reputation plays a significant role. Research the company's track record by reading online reviews and testimonials from previous customers. Look for consistent positive feedback regarding their professionalism, reliability, efficiency, and customer service.
– Licensing and insurance
Next, licensing and insurance are crucial factors to consider. Ensure that the moving company you choose is properly licensed by the Florida Department of Agriculture and Consumer Services (FDACS) and holds the necessary insurance coverage. This protects you from any potential liability in case of accidents or damage during the move. On the other hand, for long-distance moves, check if they're registered with the Federal Motor Carrier Safety Administration (FMCSA) and hold appropriate certifications.
– Experience and expertise
Additionally, experience and expertise play a vital role in selecting the right moving company and achieving your moving goal. Look for companies with years of experience in the industry as they're likely to have developed efficient processes and acquired knowledge to handle different types of moves effectively. Experienced movers understand how to navigate challenges that may arise during the move and can anticipate potential issues before they become problematic.
– Range of services
Finally, consider the range of services offered by the moving company in Fort Myers. Assess if they can meet your specific needs, whether it's local or long-distance residential moves, commercial relocations, or the delicate handling of pianos, artwork, or other specialized items. A comprehensive range of services ensures that your unique requirements can be accommodated seamlessly.
– Cost transparency
Finally, cost transparency is essential when selecting a moving company. It's recommended that you request a detailed estimate from your chosen mover in Fort Myers before committing to anything. Make sure all costs are clearly outlined, including any additional fees or charges for specialized services. A reputable company will provide a transparent breakdown of the costs involved, leaving no room for surprises down the line.
By considering these criteria – reputation, licensing and insurance, experience and expertise, as well as the range of services offered and cost transparency– you'll be well on your way to selecting the right moving company in Fort Myers that best suits your needs.
Effectively Planning Your Moving Budget
Moving can be an expensive endeavor, but with careful planning and budgeting, you can keep your costs under control. Before embarking on your move to Fort Myers, it's important to create a realistic and comprehensive moving budget that encompasses all potential expenses. By doing so, you can avoid unpleasant financial surprises and ensure a smooth transition to your new home.
First, start by assessing your specific needs and requirements. Consider factors such as the size of your household, the distance of the move, and any additional services you may require. Determining these factors early on will allow you to estimate the scale of your move and allocate an appropriate budget accordingly.
Next, research and request a comprehensive quote from a reputable moving company in Fort Myers, such as Modern Movers. By obtaining an estimate from a mover with a proven track record, you can understand the pricing and the scope of services tailored to suit your needs. Keep in mind that the cheapest option may not always be the best choice if it compromises quality or reliability.
As part of your moving budget, don't forget to account for packaging materials such as boxes, tape, bubble wrap, and packing paper. These items are essential for protecting your belongings during transit. Remember to factor in any storage fees if you require temporary storage solutions while transitioning between homes.
Furthermore, consider ancillary expenses such as travel costs, including gas or airfare if necessary. If you plan to stay overnight during a long-distance move, factor in accommodation expenses as well. Don't overlook unforeseen costs like utility deposits or fees associated with updating your address.
Planning your moving budget is akin to mapping out a road trip. You need a clear understanding of the distance, anticipated expenses for accommodations, gas, food, and any potential detours or side trips along the way.
It's also essential to set aside a buffer or contingency fund within your budget to account for unexpected expenses or emergencies that may arise during the moving process. Having this financial cushion will provide peace of mind and alleviate stress should any unforeseen situations occur.
With a well-planned moving budget in place, you can confidently proceed with your relocation knowing that you have accounted for all potential expenses. It's time to explore how you can leverage potential savings from local movers in Fort Myers.
Leverage Potential Savings from Local Movers
When planning a move, one of the key considerations is cost. Moving expenses can quickly add up, especially if you're dealing with long distances or complex logistics. That's where local movers can offer significant advantages and potential savings.
Local movers are familiar with the area and understand the most efficient routes to transport your belongings. This level of familiarity enables them to optimize their operations and reduce travel time, resulting in lower costs for you. Additionally, they often have established relationships with suppliers, allowing them to negotiate better rates for packing supplies or renting moving equipment.
But the benefits of local movers extend beyond cost savings. Their proximity to your current and new location allows for greater flexibility and responsiveness during the moving process. In case any last-minute changes or unforeseen circumstances arise, local movers can address those issues promptly and efficiently.
An example of potential savings from leveraging local movers can be seen when considering insurance coverage for your move. Local moving companies are well-versed in the specific regulations and requirements of their operating areas. This expertise means they can provide accurate guidance on insurance coverage options that best suit your needs, ensuring you have adequate protection while minimizing unnecessary expenses.
Remember that every move is unique, so it's important to discuss your requirements with the local moving company to obtain an accurate estimate and custom-tailored solutions that align with your budgetary constraints.
Unmatched Quality of Service from a Local Giant
In the bustling city of Fort Myers, residents and businesses alike are often faced with the challenge of finding reliable moving services. Luckily, there is a local giant in the industry that provides an unmatched quality of service: Modern Movers. With our extensive experience and dedication to customer satisfaction, we ensure that each move is conducted with the utmost precision and efficiency, making every relocation process seamless and stress-free for our clients.
When it comes to moving, several crucial aspects contribute to the overall quality of service provided. Modern Movers excels in each of these areas, ensuring that our customers' needs are met with the greatest care and attention to detail. One of the key factors that sets us apart is our team of highly skilled professionals. Our movers go through rigorous training and have years of experience under their belts. This expertise enables them to handle belongings with care, ensuring safe transportation and delivery.
Additionally, Modern Movers understands the importance of using high-quality packing supplies. We provide our customers with top-notch materials to protect fragile items during transit. From sturdy moving boxes to bubble wrap and packing tape, every effort is made to safeguard belongings and minimize the risk of damage.
Moreover, customers cannot overlook the convenience factor that Modern Movers offers. Moving can be overwhelming, but when you choose us, you can rest assured knowing that we'll take care of every detail. Our company offers comprehensive services, including packing, loading, transportation, unloading, and even unpacking if desired. This full-service approach allows you to focus on other aspects of your move while leaving the heavy lifting to the professionals.
Let's say you're relocating your business to a new office space in Fort Myers. You want minimal downtime for your operations and need a smooth transition to ensure productivity isn't affected. That's where Modern Movers shines. Our team works closely with you to create a customized plan that suits your specific needs. We handle everything from disassembling and reassembling furniture to carefully packing and transporting sensitive equipment. With our expertise, we ensure that your office move is seamless and efficient.
In terms of customer satisfaction, we consistently receive positive testimonials from our clients. People commend our company for our fast and efficient service, professionalism, and safe handling of belongings. These testimonials are a testament to our company's commitment to excellence. Modern Movers truly goes above and beyond to ensure that each customer's moving experience is hassle-free and successful.
So, whether you're planning a local move within Fort Myers or setting foot in the city for the first time, you can rely on the unparalleled service provided by Modern Movers. We've earned our reputation through consistent reliability, expertise, and a genuine commitment to exceptional customer care. It's our unwavering dedication to not just meet, but exceed client expectations that truly distinguishes us from the rest.
Frequently Asked Questions
Securing Success with Modern Movers
Understanding the value of professional moving services is crucial when planning a move in or around Fort Myers. Such services can alleviate stress, save time, and ensure the safety of your cherished possessions. Entrusting your move to a reliable company like Modern Movers translates to a smooth and worry-free transition. Our team's dedication, expertise, and customer-oriented approach set us apart and make us a trusted choice for professional moving services in Fort Myers. With Modern Movers, you're not just hiring movers—you're partnering with a team of professionals committed to making your move a positive and hassle-free experience.
Call our moving consultants today at 
1-800-226-4663
 to learn how our Fort Myers moving company can make your relocation a breeze and receive a free quote.