Your Reliable
Columbus

Moving Company
Call

1-800-226-4663

OR Fill out our quick quote form now, and we'll throw in a
free moving supplies kit!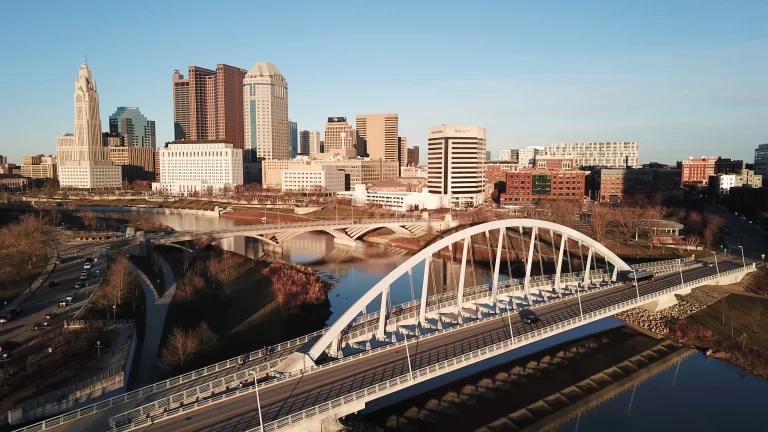 Top-Rated Moving Companies Columbus
Welcome to the one-stop destination for all your moving requirements in Columbus, Ohio. If you are planning an out-of-state long-distance move, we've got you covered. Let's dive into the world of moving with a touch of expertise and a sprinkle of literary flair.
Trusted Movers Columbus for Over Two Decades
For over 40 years, our team of dedicated movers in Columbus has been assisting residents and businesses with their relocation needs. Our reputation as a leading moving company in Columbus is built on trust, reliability, and a commitment to providing top-notch customer service.
Don't wait until the last minute. Secure your move day with us and experience a seamless transition to your new location. Say goodbye to hidden fees and hello to transparent pricing.
Hey, future Columbus mover! If you're planning a move across the country, we're here to guide you every step of the way. Let's delve into the services we offer, ensuring your move day is as smooth as a waltz.
Long Distance Movers Columbus:
Reliable and efficient long-distance moving services, making your cross-country move hassle-free.
The thought of a long-distance move can be daunting, but with our Long Distance Moving Experts, you're in safe hands. Our team ensures that your belongings, from the smallest trinket to the largest furniture piece, are transported safely.
Trusted Long-Distance Movers: Years of experience in cross-country relocations.
Columbus Long-Distance Movers: Specialized services for those moving to or from Columbus.
Moving Services Columbus:
Comprehensive moving solutions, from packing to transportation.
Every move is unique, and we pride ourselves on offering a range of services to cater to every need:
Moving Labor Services: Need an extra hand? Our team is here to help.
Furniture Delivery Services in Columbus: Ensuring your furniture reaches its destination in pristine condition.
Packing Services:
Professional packing services to ensure the safety of your belongings.
Packing can be overwhelming, but with our Columbus Packing Services, you can sit back and relax. We provide:
Columbus Packing Supplies: High-quality materials to safeguard your items.
Specialized Packing for Fragile Items: Extra care for your precious belongings.
Junk Removal:
Efficient removal of unwanted items before or after your move.
Decluttering before a move can be liberating. Our Junk Removal Services in Columbus will help you dispose of items you no longer need, giving you a fresh start in your new home.
Business Services:
Specialized services for business relocations and office moves.
Moving a business is a monumental task, but with our specialized services, it's a walk in the park:
Columbus Commercial Movers: Tailored solutions for commercial relocations.


Columbus Corporate Movers: Seamless transitions for corporate moves.


Corporation Relocation Movers in Columbus: Expertise in large-scale business relocations.
Remember, every move is a new beginning. And with our comprehensive services, stellar customer service, and no hidden fees, your new chapter starts on the right foot. Ready to make your Columbus move? Let's get moving!
If you're on the hunt for the perfect moving company in Columbus, Ohio, you've landed in the right place. Let's embark on this journey together, and allow us to share why we stand out in the bustling world of moving companies.
Over 40 years of experience in the moving industry.
Imagine all the stories, challenges, and triumphs we've witnessed over four decades. From the bustling streets of downtown Columbus to the serene suburbs, our experience as movers in Columbus is unparalleled. We've seen it all, from the challenges of high-rise building moves to the intricacies of Columbus Apartment Movers' needs. With each Columbus move, we've refined our skills, ensuring we're always a step ahead in the moving game.
Highly trained and skilled movers dedicated to exceeding expectations.
Our team isn't just good; they're the best. Our crew is trained to handle every twist and turn. They're not just experts in moving; they're Columbus Moving Service Experts, dedicated to making your move day a dream come true.
Transparent pricing with no hidden charges.
We believe in clarity, especially when it comes to your hard-earned money. Say goodbye to hidden fees and unexpected charges. With our transparent pricing, you'll know exactly what you're paying for, whether it's our top-notch Columbus Packing Services or our efficient Furniture Delivery Services in Columbus.
A fleet of well-maintained moving trucks and top-of-the-line equipment.
Our vehicles are our pride. Each truck, whether serving as Columbus Auto Movers or Columbus Residential Movers, is maintained to the highest standards. Paired with our state-of-the-art equipment, your belongings are in safe hands.
Curious about our roots? Let's take a stroll down memory lane and explore our journey as movers in Columbus.
A Legacy of Trust: Southwest Florida's Premier Moving Service
At Modern Movers, we're more than just a moving company; we're a family-owned institution with a rich legacy in Southwest Florida. For over forty years, our dedicated team has seamlessly facilitated moves, offering comprehensive services that range from full-scale moving and packing to storage, warehousing, and logistics. Throughout these years, we've been the trusted choice for numerous individuals, families, and businesses, assisting them in their journeys across Ohio, the United States, and even internationally.
Holding the distinction of being both a licensed long-distance and local residential moving company in Florida, we pride ourselves on our unwavering commitment to meeting the diverse needs of our clientele. Our team of certified moving consultants and coordinators are also adept at orchestrating international relocations, ensuring that no destination is out of reach for our clients.
Credentials that Speak Volumes:
ICC #220489
US DOT #360723
FLDACS #IM219
FLDACS #IM2906
Whether you're  venturing out of state, or setting sights on a new country, the Modern Movers family is here to guide you every step of the way. Our deep-rooted expertise and industry knowledge guarantee a smooth transition and timely delivery. Choose Modern Movers for an unparalleled moving experience marked by exceptional customer service and the assurance of a stress-free move.
In these unprecedented times, your safety is our utmost priority.
Statement on health and safety measures, especially in light of the current global situation.
We understand the concerns surrounding the global situation. Rest assured, every long-distance move is executed with the highest safety standards.
Assurance of sanitized trucks, and equipment, and adherence to safety guidelines.
All our trucks and equipment undergo rigorous sanitization before and after each move. Our team adheres to all safety guidelines, ensuring minimal contact and maximum safety. We offer virtual consultations, reducing the need for face-to-face interactions.
Ready to embark on a hassle-free moving journey? Whether you have queries about our Columbus Packing Services or need advice on your move day, our team is here to assist. Reach out, and let's make your moving dream a reality.
Preparing for a move? Trust our Columbus, OH moving team for comprehensive assistance. Reach out to our approachable team to discover our diverse moving solutions tailored just for you! Contact our moving consultants at 1-800-226-4663 if you have any questions or concerns or would like to schedule a move with Modern Movers and get a free estimate!