Your Reliable
St. Petersburg

Moving Company
Local and Long Distance Movers
Call

1-800-226-4663

OR Fill out our quick quote form now, and we'll throw in a
free moving supplies kit!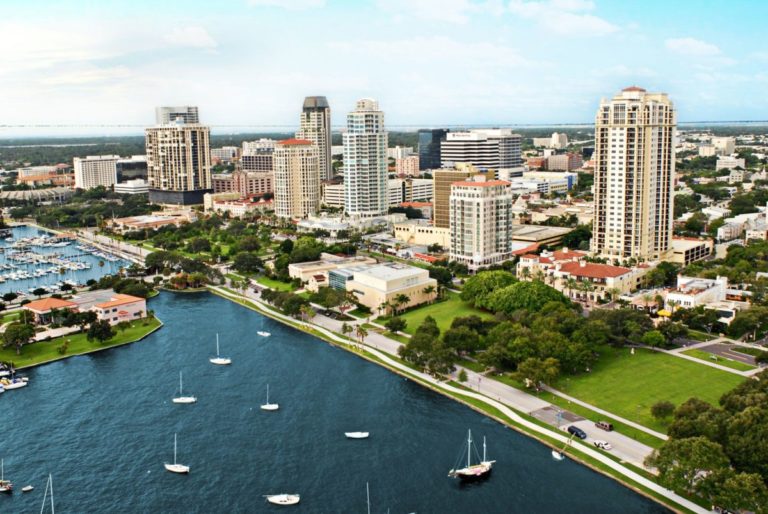 St Petersburg, FL, has been called many names throughout the years: St. Pete by locals and The Sunshine City by tourists due to its average 361 sunny days each year. Whether you're moving in or out of the area, you'll need some help from excellent local movers. Modern Movers is your premier moving company no matter where you're coming from or going in the area.
We can help you with international, cross-state, and local moves. Regardless of how many belongings or what kinds of furniture you own, our expert local movers have the equipment and skills to get the job done. Just take a look at a few of our services below.
Unbeatable Moving Services
As a reputable and experienced moving company in St. Petersburg, we offer a wide range of moving services throughout the St. Petersburg, FL, area. Our St. Petersburg movers are equipped to:
Assist with any move, including international, residential, business, or commercial relocations

Clean up after a move by removing empty boxes, packing materials, etc.

Disassemble and reassemble relevant large items


Provide written estimates with no hidden fees

Provide liability protection options

Systematically load and unload from trucks so items get where they are supposed to

Transport heavy equipment

Transport vehicles

Unpack belongings

Use furniture and home protection items like pads and covers

Use fully equipped, clean, and well-running trucks
But wait, there's more! If you're scratching your head on how to move your prized piano, our piano movers in Florida are the ones to get the job done. Moving a piano requires extreme care and expertise, and when you hire our St. Petersburg movers, you can be sure your piano will be moved into the new home damaged free.
Do you have a hot tub? That's a job for us too! Our Florida hot tub movers are the best in Southwest Florida and have experience relocating indoor and outdoor hot tubs. No matter if it's inflatable, acrylic, or wooden, our hot tub movers will take the stress of moving your jacuzzi right off your hands.
Of course, you'll want movers to get the job done, but you'll also want movers who will be there for you every step of the way. As one of the longest-running moving companies in Florida, the Modern Movers in St. Petersburg have perfected customer service over the years. Upon hiring our St. Petersburg movers, you'll be assigned a moving consultant who will meticulously organize the move and address any questions or concerns.
Once on the road, the moving consultant will keep you up to date on the status of the move, giving you the peace of mind that your belongings are in capable hands.
Whenever you're ready to move to St. Petersburg, give the Modern Movers a call. We've been in the relocation industry for almost forty years, so we have the experience and expertise you'll need to successfully move into your new home. Get started on your upcoming move by calling our St. Petersburg movers at
1-800-226-4663
for your free estimate today!