Your Reliable
Cleveland

Moving Company
Call

1-800-226-4663

OR Fill out our quick quote form now, and we'll throw in a
free moving supplies kit!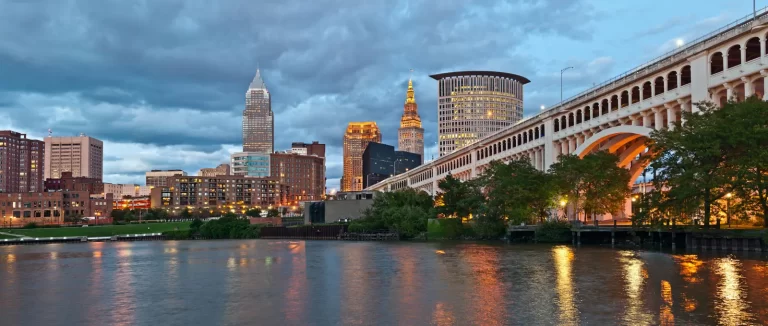 Top-Rated Moving Companies in Cleveland
Welcome to the hub of Cleveland's finest moving services! If you're on the hunt for a reliable moving company in the heart of Ohio, you've come to the right place. We understand that moving can be a daunting task, especially for beginners. But don't fret! We're here to guide you every step of the way.
Seamless, Professional, and Stress-Free Moving Services
Moving is more than just transporting items from one place to another. It's about ensuring a smooth transition, safeguarding your precious belongings, and starting a new chapter in your life on the right foot.
Long Distance Movers Cleveland: Safe and secure long-distance moving solutions
Embarking on a long distance move? We've got you covered. Our long-distance services ensure your belongings reach their destination safely:
Experienced Moving Team: Our team is trained to handle the challenges of long-distance relocations.
Protecting Your Belongings: With our expertise in handling fragile items and commitment to safety, rest assured your items are in good hands.
Transparent Pricing with No Hidden Fees: Long-distance moves come with clear, cost-effective pricing.
Moving Services Cleveland: Packing, loading, unloading, and more
Our comprehensive moving services are designed to cater to all your relocation needs:
Packing and Unpacking Assistance: Let our professionals handle the packing, ensuring the safety of your items.
Efficient Loading and Unloading: With our trained staff and modern moving equipment, the loading and unloading process is a breeze.
Comprehensive Moving Checklists: Stay organized and on track with our detailed checklists.
Storage Solutions: Short-term and long-term storage facilities
In between moves or just need extra space? Our safe and secure storage solutions are perfect for you:
Flexible Storage Options: Whether you need storage for a month or a year, we've got options to suit your needs.
Modern Facilities: Our storage units are equipped with the latest security features, ensuring your belongings are safe.
Office/Business Relocation: Minimize business disruptions with our specialized services.
Relocating a business is a massive undertaking. Our specialized services ensure minimal disruption:
Experienced Moving Team: Our team understands the nuances of commercial relocations.
Service Areas Covered: Whether it's a move within Cleveland or beyond, we've got you covered.
Dedicated Move Coordinators: Our professional move coordinators ensure a seamless business transition.
Packing Services: Professional packing to ensure the safety of your items
Packing is an art, and our team has mastered it:
Attention to Detail in Every Move: Every item, whether fragile or robust, is packed with utmost care.
Recommendations for Moving Supplies: Not sure what packing materials to use? We provide recommendations to ensure your belongings are secure.
Over 40 years of experience in the moving industry
When it comes to moving, experience counts. With over a quarter-century in the business, we've seen all long-distance moving challenges across states, and our experienced moving team has navigated every possible scenario. This vast experience ensures that every move is unique and receives the attention it deserves.
Comprehensive moving services for homes and businesses
Residential and Commercial Relocations: Whether you're shifting your cozy apartment or relocating an entire office, our comprehensive moving solutions cater to both residential and commercial needs.


Customized Moving Plans: Understanding that every move is unique, our professional move coordinators craft detailed plans tailored to your specific requirements.


Packing and Unpacking Assistance: Our team offers meticulous packing services, ensuring the safety of your belongings. And once you're at your new place, we'll help set everything up just the way you want.


Safe and Secure Storage Solutions: In between moves and need a place to store your items? Our storage solutions are designed to keep your belongings safe and easily accessible.
Highly trained and professional team ensuring the safety of your belongings
Protecting your belongings is our top priority. Our team undergoes rigorous training to ensure they handle every item with care. From expertise in handling fragile items to using modern moving equipment and trucks, we've invested in ensuring our team is equipped with the best tools and knowledge. This dedication to excellence ensures an efficient moving service with a keen attention to detail in every move.
Hundreds of satisfied customers and positive reviews
Our commitment to top-notch customer service has not only earned us a reputation as one of the best moving companies in Cleveland but has also garnered us hundreds of positive reviews. Here's what sets us apart:
Transparent Pricing with No Hidden Fees: We believe in honesty and transparency. Our cost-effective moving solutions come with clear pricing, ensuring no unexpected surprises.


Dedicated Customer Support Throughout the Move: From the moment you reach out to us until you're settled into your new place, our dedicated customer support is with you every step of the way.


Knowledge of City Routes and Traffic Patterns: Our expertise in long-distance moves means we know Cleveland, Columbus, Cincinnati, and other cities like the back of our hand. This knowledge ensures timely and efficient relocations.


Positive Customer Feedback and Reviews: Our satisfied customers are our best advocates. Their feedback is a testament to our commitment to ensuring a stress-free moving experience.
Real feedback from satisfied customers highlighting our efficiency, professionalism, and care.
Our commitment to safety
Ensuring the safety of both our clients and our team is paramount. We understand the concerns that come with moving, especially in today's times. Here's how we prioritize safety:
Protecting Your Belongings: Our trained staff and modern moving equipment ensure that your items are handled with care, minimizing any risk of damage.


Licensed and Insured Movers: Rest easy knowing that our team is fully licensed and insured, adding an extra layer of protection to your move.


Expertise in Handling Fragile Items: From heirlooms to delicate electronics, our team is trained to handle items with the utmost care.
Regular sanitation and cleanliness practices
In response to health concerns, we've amplified our sanitation measures:
Sanitized Trucks and Equipment: Before and after every move, our trucks and equipment undergo a thorough cleaning process.


Personal Protective Equipment: Our moving team is equipped with masks, gloves, and other necessary PPE to ensure a safe moving environment.


Flexible Scheduling to Suit Client Needs: If you need to reschedule or have specific safety requests, our dedicated customer support is here to assist.


Trained Staff: Our team undergoes rigorous training to perfect their packing skills.
Brief history of Modern Movers, Inc
Founded over four decades ago, Modern Movers, Inc began as a small, family-run business in the heart of South West Florida. Over the years, we've grown into one of the most trusted moving companies in the region. Our journey began with a simple goal: to provide top-notch moving services that prioritize the needs of our clients. From our humble beginnings with just one truck, we've expanded our fleet and our team, but our core values remain unchanged.
Our reputation is built on a foundation of positive customer feedback and reviews, a testament to our commitment to excellence.
Mission and Vision
Mission: At Modern Movers, Inc our mission is to provide a stress-free moving experience for every client. We understand that moving can be overwhelming, and our team is here to make it as seamless as possible. With our unique process of crafting move details tailored to each client, we ensure that every move is unique and receives the attention it deserves.
Vision: We envision a future where relocating is a joy, not a chore. As we continue to grow, our vision is to set the gold standard for moving services not just in Cleveland, but nationwide. We aim to be the go-to choice for all residential and commercial relocations, offering comprehensive solutions that cater to every moving need.
Modern Movers, Inc is more than just a moving company; we're a community of professionals dedicated to making your next move the best one yet. With our rich history, clear mission, and vision for the future, we invite you to be a part of our story. Let's move forward, together.
From Start to Finish, We've Got Your Move Covered!
When you're getting ready to move, you can rely on our full-service Bonita Springs movers to assist with your relocation from beginning to end. Talk to our friendly staff to learn more about our extensive range of moving services and see how we can customize a move for you! Contact our moving consultants at 
1-800-226-4663
 if you have any questions or concerns or would like to schedule a move with Modern Movers and get a free estimate!